ECORD 20th Anniversary
April 2023
ECORD was created in 2003 by 12 countries to join the Integrated Ocean Drilling Program (IODP – 2003-2012) through the co-ordination of the European contribution to this programme. ECORD has played a major role in this programme and initiated the mission-specific platform (MSP) concept (Read more in special issue of ECORD Newsletter #38 »).
ECORD has developed the MSP concept during the International Ocean Discovery Program (IODP – 2013-2024). The scientific and operational accomplishments of ECORD in IODP have been prolific and of high quality, and have been recognised by its partners as a crucial contribution to the largest marine geosciences programme in the world.
IODP³ (IODP-cubed)
ECORD is now building a new programme with Japan and other partners based on the MSP concept to start a new phase in scientific ocean drilling history in January 2025. Read more about IODP³  »
On 25 April 2023 ECORD celebrated its 20th Anniversary in Natural History Museum in Vienna, Austria, during ECORD-ICDP Townhall meeting. The event was well attended and the ECORD community had a chance to hear presentations from John Ludden, Catherine Mével, Gilbert Camoin (Read more in special issue of ECORD Newsletter #38 »).
After 20 years ECORD decided to refresh its logo. Its new version was presented to the community during celebration of ECORD 20th Anniversary.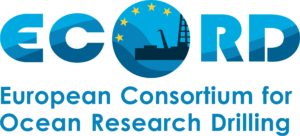 ---
Special Issue of ECORD Newsletter:
20th Anniversary of ECORD