Participation in an IODP expedition includes shipboard and/or shore-based activities, such as sailing but also requesting core samples or using core or log data. Please, read carefully the ECORD Guidelines for Applying to Sail before sending your application package for any IODP expedition.
In this section scientists, educators and outreach specialists from ECORD member countries will find the current OPEN Calls and related information about how to participate in IODP expeditions.
Please note that applicants from non-ECORD countries should apply through their appropriate Program Member Offices – link.
---
OPEN CALLS for Scientists
Special CALL for applications (Palynologists and a Physical Properties Specialist/Volcanic Stratigraphic Integrator – 
IODP Expedition 396: Norwegian Continental Margin Magmatism (6 August – 6 October 2021)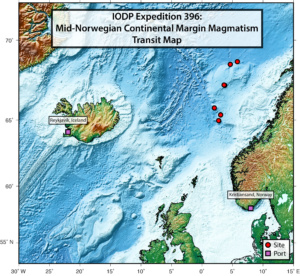 DEADLINE to apply: 4 January October 2021
Download the full call text here
Download the application form here
Expedition website  – link
Informational webinar (Friday, October 2, 2020 at 11:00 am Eastern Daylight Time). Register here
IODP X377: ArcOP – IMPORTANT DEVELOPMENT
To Members of the IODP Community,
IODP Expedition 377: Arctic Ocean Paleoceanography will not be implemented in 2021
The European Consortium for Ocean Research Drilling (ECORD) regrettably announces that IODP Expedition 377: Arctic Ocean Paleoceanography will not be implemented in August to October 2021.
In spring 2020, the ECORD Science Operator (ESO) opened a call to the commercial market to provide platform, drilling and ice management services for this expedition. The commercial bids received were evaluated at the end of May 2020.
Unfortunately, it has been concluded that the procurement has failed to achieve its objectives. The primary and overriding reason for this is the combination of facilities and services required cannot be fulfilled within the expedition's available budget.
At its recent spring meeting on 10-11 June 2020, ECORD Council confirmed the removal of Expedition 377 from the 2021 mission-specific platform expedition schedule. Later in June, the ECORD Facility Board will consider options for future MSP expeditions for 2021-2023.
I wish to thank the Co-chief Scientists, their co-proponents, and ECORD/ESO colleagues for their hard work and dedication in attempting to implement this complex and costly multi-platform expedition.
I also wish to thank members of the community who have shown an interest in participating in this expedition, and for taking the time to prepare applications. The Call for Scientists will now be stopped, and announcements on the future of Expedition 377 will be made via IODP-related channels in due course. Current applications will be deleted, and a fresh Call for Scientist issued if and when appropriate.
——————————————-
David McInroy
Science Manager
ECORD Science Operator
---
CLOSED CALLS
Mission-Specific Platforms