Prior to each mission-specific platform expedition, a Press Conference is held at which media representatives have the opportunity to meet the Co-chief scientists and members of the ESO team.
The GBREC Expedition Press Conference took place in the Jupiters Townsville Hotel, Townsville, Australia on Thursday 11th February 2010. A second press conference to report the first results from the Onshore Science Party was held at the Bremen Core Repository on the 9th of July. News releases were issued to coincide with these events.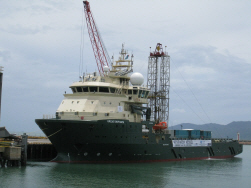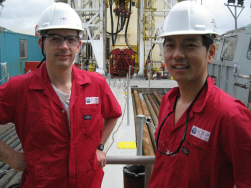 Daily progress reports from the Greatship Maya.
During the Expedition the team sent daily progress reports from the ship giving details of the vessel's location, weather and progress.
An Expedition Logbook was maintained giving informal descriptions of life onboard the ship.
A selection of photographs from the expedition was made available in the Photo Gallery. If you would like to use these or see other photographs from the MSPs, please contact Alan Stevenson.
Posters explaining the IODP and the work that the scientists carried out in Australia were on public display at Reef HQ in Townsville during the expedition.
Following the offshore operations, the GBREC onshore science party took place at the Bremen Core Repository from the 2nd–16th July 2010. Media representatives who would like to arrange to visit the onshore science party or interview the scientists about their work should contact Albert Gerdes.
Other information:
---