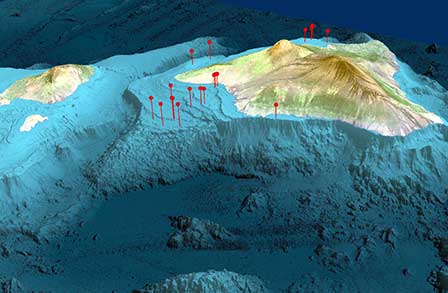 The European Consortium for Ocean Research Drilling (ECORD) offers you the unique opportunity to sail on the IODP Expedition 389 Hawaiian Drowned Reefs.
The overall goal of the expedition is to sample a unique succession of drowned coral reefs around Hawaii now at -134 to -1155 m below sea level.
The offshore phase of the expedition is scheduled for September-October 2019 (maximum of 60 days), with only a subset of the Science Party participating. Offshore activities will focus on core recovery, curation, sampling for ephemeral properties, biostratigraphy, physical properties, preliminary lithostratigraphy and downhole logging. The cores will not be split at sea.
Subsequently, an Onshore Science Party (OSP) will be held at the MARUM – Center for Marine Environmental Sciences, University of Bremen, Germany, starting in mid- to late-January 2020 for a maximum of 4 weeks long.
Read more information on the Expedition page