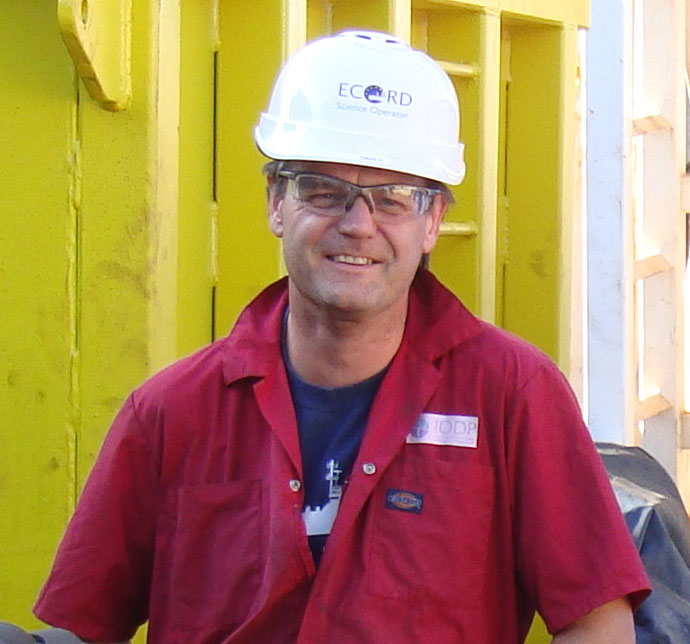 David Smith
5th ECORD Award
1 October 2020
David Smith was awarded with the 5th ECORD Award at the occasion of ECORD Council-ESSAC Meeting #8.
"I was appointed Head of BGS Marine Operations and IODP ESO Operations Manager in 2007. My career spans operations worldwide plus developing innovative engineering developments for industry and academia and working on all ESO MSP Expeditions (except ACEX).
IODP expeditions encompass the symbiotic relationship between science, constantly pushing the boundaries of what is possible, and engineering, creating developments to meet these demands. The unique diversity of MSPs (no MSP is the same) is exciting and challenging. As an engineer, I am proud to continue the IODP legacy for the development of techniques and equipment to meet these demands.
Delivering MSPs, working from concept to implementation is hugely satisfying. Completing an MSP successfully and in budget, is always the goal. Being part of a dedicated multinational ESO Operations Team, working together to grow, develop and deliver MSPs under pressure with all the fun, laughter and tears that comes with expeditions, is something I am immensely proud and will always remember.
Going forward, innovation in all aspects of ECORD/MSPs are required to continue the huge success of MSPs, whilst facing the twin challenges of reduced funding and increasing operational costs."