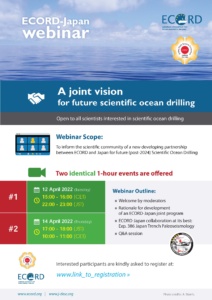 ECORD and J-DESC invite all scientists interested in scientific ocean drilling to participate in the ECORD-Japan
webinar :
A joint vision for future scientific ocean drilling
The scope of the webinar is to inform the scientific community of a new developing partnership between ECORD and Japan for future (post-2024) Scientific Ocean Drilling.
Therefore we will offer two identical 1-hour events:
Webinar Outline:
"Welcome by moderators
"Rationale for development of an ECORD-Japan joint program
"ECORD-Japan collaboration at its best: Exp. 386 Japan Trench Paleoseismology
"Q&A session
Download the webinar flyer here
#1: 12 April 2022 (Tuesday)
15:00 – 16:00 (CET)
22:00 – 23:00 (JST)
REGISTER for webinar#1 here.
#2: 14 April 2022 (Thursday)
17:00 – 18:00 (JST)
10:00 – 11:00 (CET)
REGISTER for webinar#2 here.