Coral Reefs of Tahiti
Replica of core section: 310-M0024A-10R-01
IODP Expedition 310 Tahiti Sea-Level Change

Replica of a core drilled in Pleistocene fossil coral reefs by the ECORD Science Operator, including the Azolla event, Hole 24A, Core 10R, Section 1.
Coral boundstone with microbialites
This core section is one of the critical samples from IODP Exp. 310. It provides an invaluable record of a dramatic sea-level rise (Meltwater Pulse 1A; MWP-1A) related to a major collapse of polar ice sheets, which occurred between 14,650 and 14,310 years ago.
The coral boundstone is composed of robust branching Pocillopora at the bottom and fragments of branching Porites at the top signifying change in coral assemblage composition from shallow to moderate water depth.
Coral reef sequences drilled offshore Tahiti during IODP Expedition 310 provide evidences that the global ocean rose of 17 m in 350 years at a rate of 45 mm/yr (vs 3 mm/yr currently) during the MWP-1A. This episode corresponds to the fastest sea-level rise in Earth history.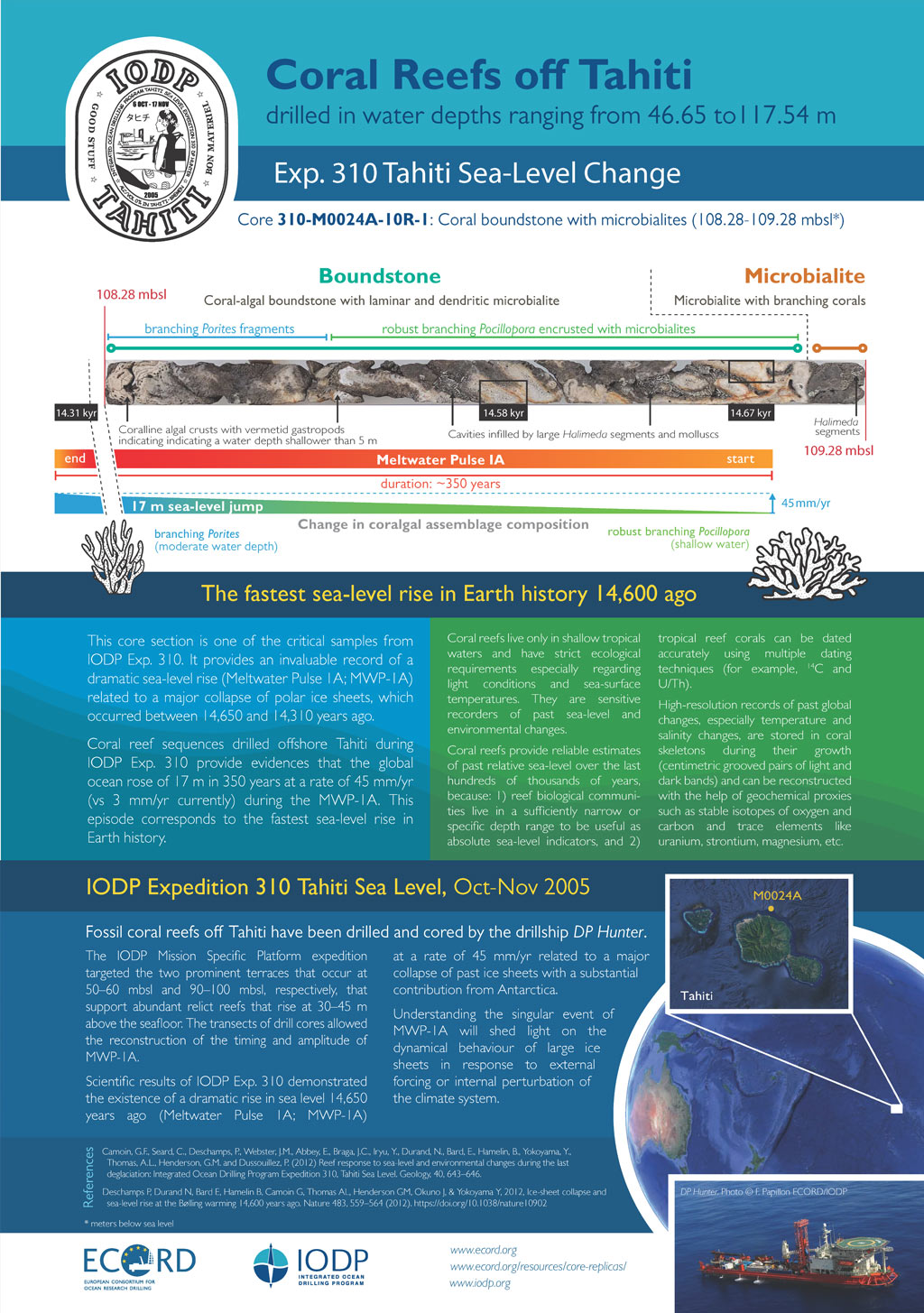 Request to loan the ACEX core replica
---
Core replicas are loaned free of charge for a time-limited period to scientists, museums, universities and research institutions based in ECORD member countries.
In order to loan the core replica, please fill in the form below. Alternatively, you may inquire about the loan to bednarz@cerege.fr
Form: Loan request for ACEX core replica
---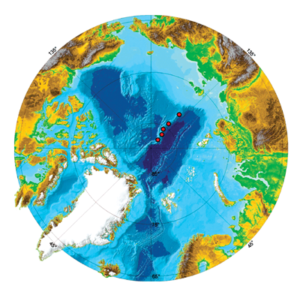 IODP Expedition 302 ACEX
Drillship: I/B Vidar Viking
The Arctic Coring core replica is based on a core recovered during mission-specific platform (MSP) expedition: IODP Expedition 302 ACEX.
ACEX is the first scientific drilling expedition to the central Arctic Ocean, 250km from the North Pole.
It was operated by ECORD Science Operator (ESO) in August-September 2004 and recovered sediment cores up to 428 meters beneath seafloor in water depth of about 1300 m.