Chicxulub Impact Sequence – IODP Expedition 364
Replica of core section: Hole M0077, Core 40R, Section 1
IODP Expedition 364 Chicxulub K-Pg Impact Crater

Replica of a core drilled in the in rocks from the peak ring of the Chicxulub impact crater in the Gulf of Mexico, 20 km NW Progreso.​ The core is a top part of the Chicxulub Impact Sequence – the evidence of a huge meteorite impact at 66Ma ago, and illustrates Cretaceous-Paleogene (K/Pg) boundary. The core contains a Transitional Unit with evidence of postimpact resurge, settling, seiches, tsunami, and subsequent return of the bentic life to the post impact crater.

Pelagic carbonate, Transitional Unit and suevite
Transitional Unit is a top part of the Chicxulub Impact Sequence: sequential impact processes that occurred 66.0 Ma which began in the moments after impact and ended when the crater was fully formed and flooded and seiches (standing waves) and tsunami (shallow water waves reflected back into the impact basin) have subsided (see Gulick et al., 2019). The unit is composed of upward-fining, brown, fine-grained micritic limestone with elevated charcoal concentrations (evidence of fire). Discrete trace fossils were identified  at the top of the transitional unit, indicating that bentic life returned to the postimpact crater within several years after the impact.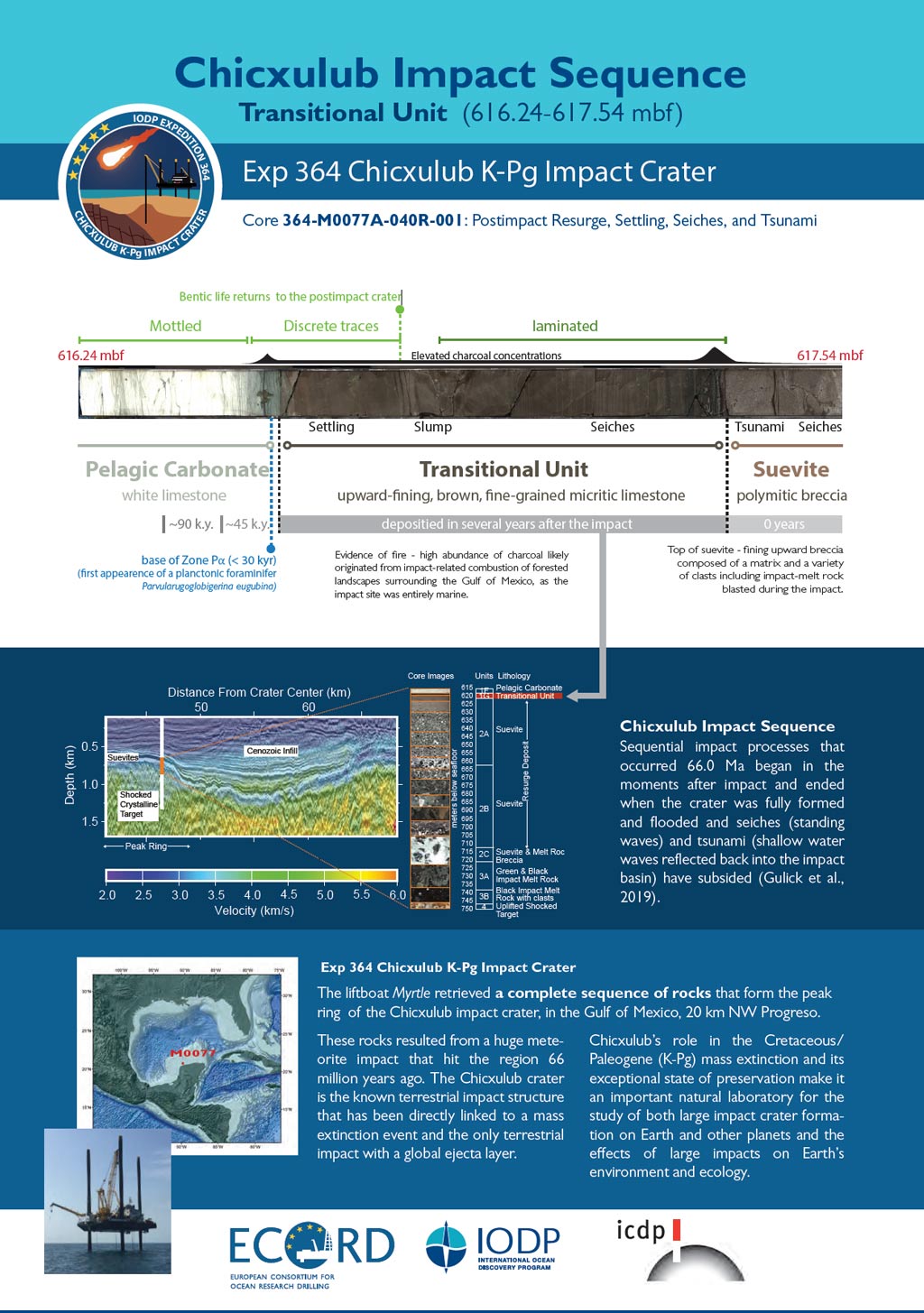 Read more
---
Morgan, J., Gulick, S., Mellett, C.L,, Green, S.L ., and the Expedition 364 Scientists (2017) – Chicxulub: Drilling the K-Pg Impact Crater. Proceedings of the International Ocean
Discovery Program, 364: College Station, TX (International Ocean Discovery Program) – doi:10.14379/iodp.
Gulick, S. P.S., Bralower, T., Ormö, J., Hall, B., Grice, K., Schaefer, B., Lyons, S., Freeman, K. H., Morgan, J., Artemieva, N., Kaskes, P., de Graaf, S., Whalen, M., Collins, G., Tikoo, S. M., Verhagen, C., Christeson, G. L., Claeys, P., Coolen, M., Goderis, S., Goto, K., Grieve, R., McCall, N., Osinski, G., Rae, A., Riller, U., Smit, J., Vajda, V., Wittmann, A., and Expedition 364 Scientists (2019), The first day of the Cenozoic. Proceedings of the National Academy of Sciences. 116 (39) 19342-19351. https://doi.org/10.1073/pnas.1909479116
Chicxulub 'dinosaur' crater drill project declared a success, BBC.com article, May 2016, https://www.bbc.com/news/science-environment-36377679
Request to loan an ECORD core replica
---
Core replicas are loaned free of charge for a time-limited period to scientists, museums, universities and research institutions based in ECORD member countries.
In order to loan the core replica please contact Malgo Bednarz (bednarz@cerege.fr)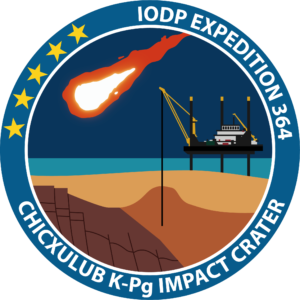 IODP Expedition 364: Chicxulub K-Pg Impact Crater
Drillship: L/B Myrtle
The Chicxulub Impact Sequence core replica is based on a core recovered during mission-specific platform (MSP) expedition: IODP Expedition 364 Chicxulub K-Pg Impact Crater .
In April 2016, the L/B Myrtle sailed from Progreso, Mexico, with 14 scientists from Expedition 364 onboard to begin coring and logging operations at one site located over the intact Chicxulub "peak ring" – a ring of mountains located within the larger crater, protruding through the crater floor and mantled by impact melt rock and breccia, and rarely found on Earth. Led by Joanna Morgan, Department of Earth Science and Engineering, Imperial College London, UK, and Sean Gulick, Institute for Geophysics, University of Texas at Austin, USA, the offshore Science Party and ESO staff spent 54 days coring at 1 site (M0077).
The nearly 100% core recovery, high quality of the recovered core, completeness of the early Paleocene, and successful wireline logging campaign represent a great success. As with all new data, it will take time for the teams from around the world to understand the full implications of the insights gained. However, the scientists are confident that the data acquired during Expedition 364 will accomplish the goals of the expedition and go a significant way toward answering the many questions posed about the impact crater, the end-Cretaceous mass extinction, and the effects of impacts on the deep biosphere.
IODP Expedition 364 was operated by ECORD Science Operator (ESO) in April-May 2016 and recovered sediment cores up to 1335 meters beneath seafloor in water depth of 19.8 m.