Cretaceous-Paleogene (K/Pg) mass extinction boundary
Replica of core section: ODP Leg 171B, Hole 1049A, Core 17X, Section 2
Expedition: ODP Leg 171B Black Nose Paleoceanographic Transect

The core contains evidence (tektites) of a huge meteorite impact at 66Ma ago, the Cretaceous-Paleogene (K/Pg) boundary in sediments from beneath the Atlantic's seafloor, 1,920km from the Chicxulub crater at a water depth of 2,658m.
Sedimentary materials, tektites and asteroid remains
This replica of a sediment core recovered by the Ocean Drilling Program records the cataclysmic event that changed life on Earth 66 million years ago. The drill ship JOIDES Resolution obtained this core 560 km east of Florida at a depth of 128 meters below the ocean floor. On that day, an asteroid nearly 10km wide slammed into what is now Mexico's Yucatan Peninsula and blasted debris into the atmosphere. When the dust cloud settled, a 177 km wide crater scarred the Earth. The greenish layer of sedimentary materials, tektites and asteroid remains, contains by far the most convincing evidence of the huge meteorite impact in the region. The impact and ensuing global climatic changes devastated life. In the ocean, 95 percent of the free-floating foraminifera died out. This asteroid is believed to have brought about the extinction of all the dinosaurs and an estimated 50 to 80% of other Cretaceous species.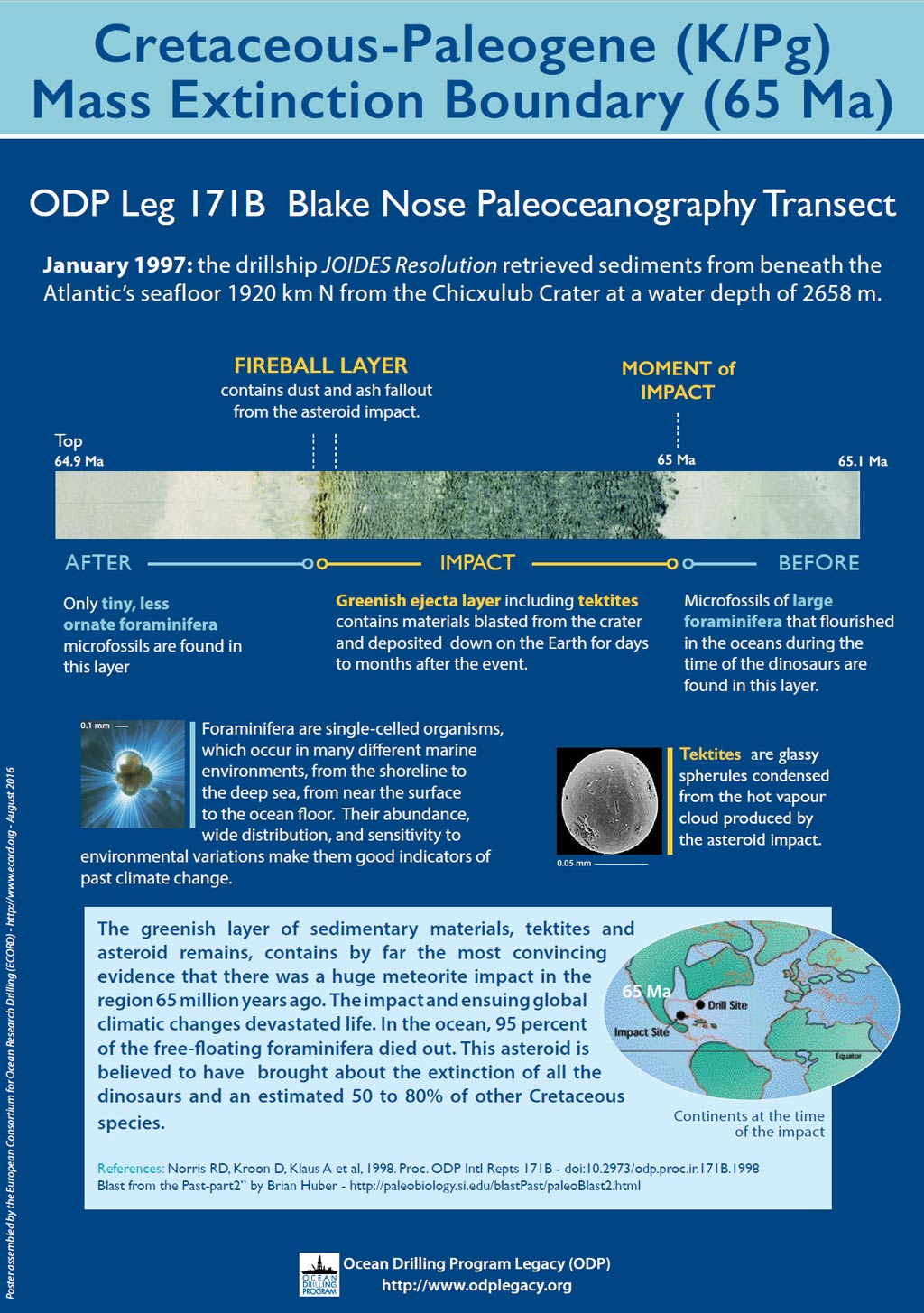 Request to loan an ECORD core replica
---
Core replicas are loaned free of charge for a time-limited period to scientists, museums, universities and research institutions based in ECORD member countries.
In order to loan the core replica please contact Malgo Bednarz (bednarz@cerege.fr)
ODP Leg 171B Blake Nose Paleoceanographic Transect
Drillship:  JOIDES Resolution (JR)
In January 1997 the drillship JOIDES Resolution retrieved sediments from beneath the Atlantic's seafloor 1920 km N from the Chicxulub Crater at a water depth of 2658 m.
Since its inception in the Triassic, the Atlantic basins have become increasingly integrated with the global ocean. A key transition occurred during the Late Cretaceous and Paleogene from the narrow, silled basins that characterized the early North Atlantic to the deep marine connections of the modern Atlantic. The tectonic and oceanographic transition for the North Atlantic was accompanied by a suite of other remarkable events including some of the warmest global climates known for the past 100 m.y., several large body impact events (accompanied by one of the five largest mass extinctions of the past 500 m.y.), and profound changes in carbon cycling and greenhouse gas concentrations associated with mid-Cretaceous black shale deposition and the Paleocene/Eocene boundary. Ocean Drilling Program (ODP) Leg 171B was designed to recover expanded records of this transition period in North Atlantic evolution for examination of the oceanographic, climatologic, and evolutionary history of the Paleogene and Cretaceous ocean. Read more »